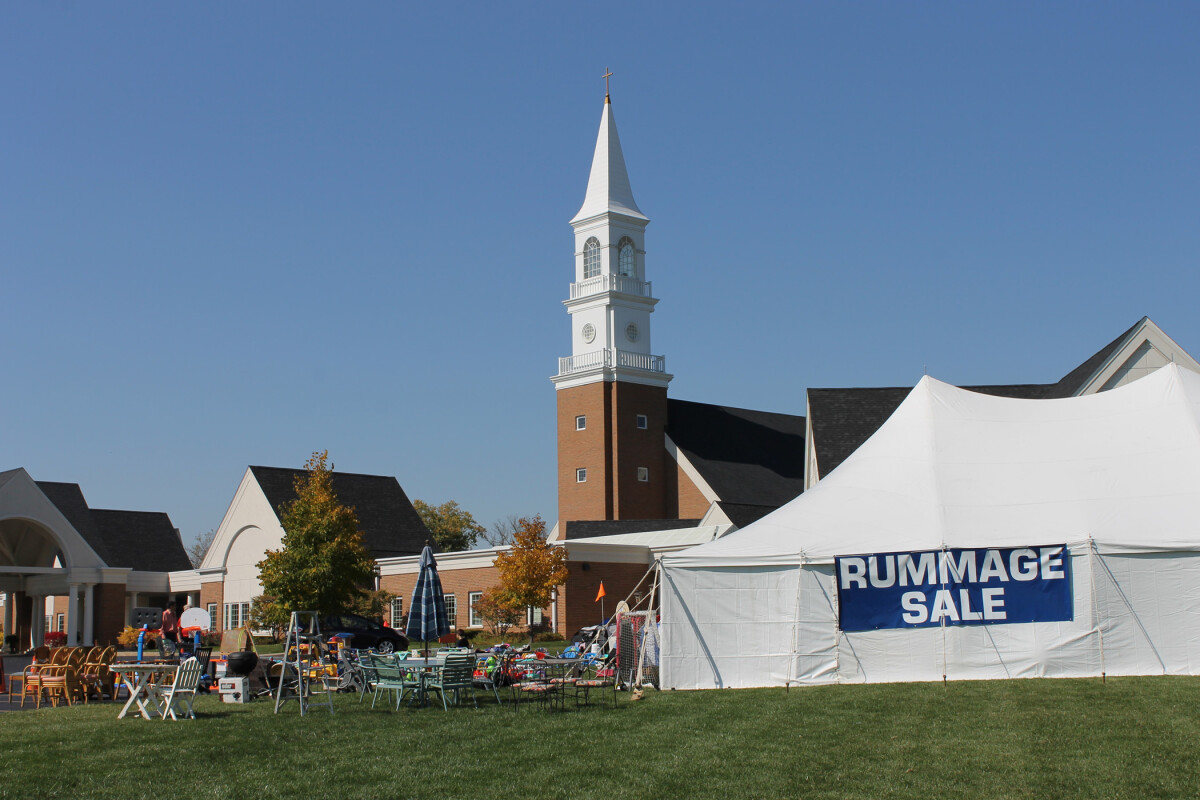 This year marks the 86th anniversary of the Barrington United Methodist Rummage Sale! Be a part of this tradition! Help us celebrate by bringing your treasures and volunteering to make this year a great success! Please see the enclosed information sheet with all the details. Stop by the display table to find out more. We hope to see you there--this is a great service opportunity as well as a time for fellowship, a little work, lots of humor, and a great sense of accomplishment when the profits are forwarded to so many deserving organizations! Can't come to help that week? We love to provide lunch and snacks to volunteers, so food donations are greatly appreciated! Do you run errands? Could you post a sign at some of your stops (coffee shops, stores, dry cleaners, etc.) All help is greatly appreciated!
---
Sale Hours:
Friday, October 4, 9:00 a.m. to 7:00 p.m.
Saturday, October 5, 9:00 a.m. to 12:00 p.m.
Donate Items:
Sunday, September 29, after worship - 2:00 p.m.
Monday & Tuesday, September 30-October 1, 9:00 a.m.–8:00 p.m.
Wednesday, October 2, 9:00 a.m. - 12:00 p.m.
We will accept fall and winter clothing (on hangers and sizes labeled are greatly appreciated), shoes, boots, accessories (hats, belts, purses, scarves), jewelry, housewares, small appliances, children's books only, instruments, antiques, collectibles, holiday items, crafts, linens (labeling sheet sizes is greatly appreciated), sporting goods, tools, toys, baby items, lamps, pictures/frames, lawn furniture, etc.
We cannot accept CD's, DVD's, cassettes, VCR tapes, electronics, TV's, computer items, encyclopedias and magazines, knives, propane tanks, carpeting (area rugs are OK), large exercise equipment, aerosol cans, large appliances, paint, tires, humidifiers, air conditioners, mattresses, batteries, standard-sized organs and pianos, infant car seats, cabinet stereos, metal office furniture and large furniture. No large furniture! Only small items able to be lifted by one or two people and can fit in a trunk! Contact Sydney Whitley, (847) 650-5037, with questions.
Volunteer to Help
Sale Preparation: September 28-October 3
Sale Help: October 4-5
Sale Clean-up: October 5, noon -3:00 p.m.
Volunteers are needed to unpack, sort, move, hang, display, price and size items, etc. Standing and sitting jobs available! If you are an "appliance expert," your skills are needed to be sure items work.
Childcare is provided Monday through Thursday, upon request, 9:00 a.m.-1:00 p.m.
Can't volunteer your time? Can't volunteer your time? See the Rummage Table in the lobby on Sunday morning for ways you can help. Perhaps you could post some flyers as you run your errands. Lunch items (soup, chili, etc.), snack, and drink donations are especially appreciated!
Special Shopping Hours for workers
All volunteers who work for a minimum of 4 hours during the week (Sunday through Thursday, or commit to work Friday or Saturday) will be able to shop at our Private "For Workers Only" sale on Thursday evening, 5:30-7:30 p.m.
For more information, please call Sydney Whitley (847) 650-5037, or Linda Osikowicz, (847) 540-5634. To volunteer your time, contact Sandy Starnes, or online here!