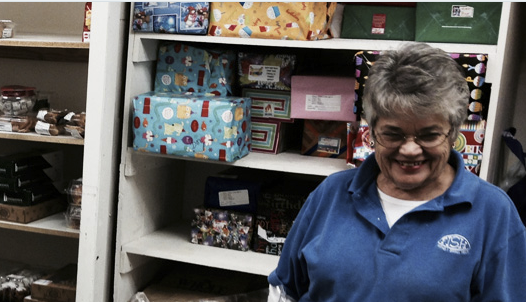 The food pantry is an essential service and must continue operations throughout this time period. They have moved to a no-touch system in which clients sign-in outside the front door and wait in their cars until they are called on their cell phone to drive up to the side door and receive their pre-packed boxes. Between 8:00 and 10:00 a.m., volunteers fill the boxes according to a fixed list. There is a second box for larger households.

How can I help?
If you are young and have no underlying conditions and live in a household where no one is a vulnerable individual, consider going to the FISH website (https://www.fish-food-pantry.org/volunteer) and signing up to be a reserve volunteer – saying that you could be called to come in if they need you.

Make a monetary donation so that FISH (or another local food pantry) can purchase food from the Northern Illinois Food Bank. Normally food banks rely on donations from local grocery stores, but when store shelves are emptied as they are now, the stores have little to send.

If you prefer to shop (or clean a closet or two), please provide hygiene items – soap, shampoo, toothpaste and brushes, wipes and diapers. These items are essential and not available from the Food Bank. Drop items off at the side door on Monday, Wednesday or Friday between 8 and 10 a.m. or at Barrington UMC, where we have moved our Food Pantry donation bins outside onto the portico so that you can safely drop items off at any time. We will make sure they are delivered to FISH during their business hours.

You can direct your Amazon Smile account donations to FISH Food Pantry, Carpentersville, Illinois.